Left to right: Jim Brown, Betsy Bulow, Warren Wright, Sandy Patterson, Annie (official mascot), Rob Patterson, Brennan Dougherty, Dawn Clark
In 1945, Bob Bugie had just gotten home from England where he was a B-17 bomber pilot in World War II. He had served his country having flown 27 missions over Germany. Now it was time to come home to his young wife, Betty. Shortly after returning home they had their only child, Sandy. He sold insurance and worked at Shillito's for a while but quickly realized that was not his calling. In 1946, he put an ad in the sports page of the Cincinnati Enquirer looking for an opportunity to buy into a business. His ad was answered by Wiley Cotteril. They were partners until the early 50's when Wiley passed away unexpectantly. Now Bob was the sole owner of the Robert W. Bugie Sales Company. In 1971, Sandy married Bill Patterson. Shortly after Sandy and Bill moved back to Ft. Thomas from Georgia in 1972, Bill began working as a salesman in the family business. A couple of years later, in 1975, Sandy and Bill had their only child, Rob. Not long after Rob was born, Bob had lunch with a customer who was struggling. By the end of the lunch, he had purchased a store fixture company. This is how Sandy got involved, now she had her second baby, store fixtures. Rob started in the warehouse in the early 90's and was part time through high school and college. In 1998, after graduating from the University of Kentucky, Rob started full time with the company.

The company has thrived for 70+ years, multiple buildings, and 3 generations of family. We've had ups and downs, good years and bad but one thing has always been a constant, our loyal customers and employees. We wouldn't be anything without those two things. Thank you for everything that you have done for us in the past and we look forward to continuing this trend for the far future.

Rob Patterson:  rob@bugiesales.com
Sandy Patterson: sandy@bugiesales.com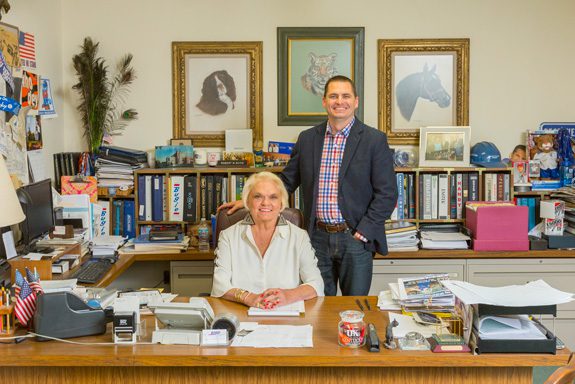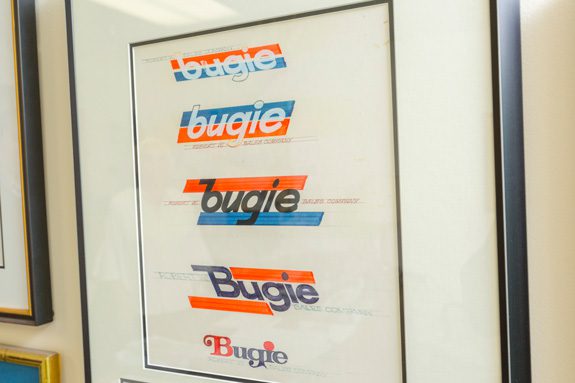 After growing up around the business Sandy Patterson never dreamed she'd be a part of it. It all started in 1975 when our office manager quit and Bob Bugie (her dad), asked her to come in and help. Fortunately, that role didn't last long, and she was pushed in another direction in the company. Shortly after joining the business, Mr. B. purchased a store fixture company. The store fixture portion of the business was now Sandy's to run with. As they say, the rest is history.

Rob Patterson also grew up in the business but got a slightly earlier start than Sandy did. We think that he started in 1990 but aren't sure of the exact date. There's a slight possibility that child labor laws might have been broken back in the day. As far as we know, Rob is also the only employee who has ever been shrink wrapped to a pole. Mr. B and Rob's dad, Bill, were very clear that he would need to do every job in the building if he was going to join the business. And he has.

Through the years Robert W. Bugie Sales has been our love, our headaches, our sleepless nights, our fights, our successes and our failures. With all that being said, we wouldn't wish it upon you, but we sure wouldn't trade it for anything.

But most importantly it's our legacy….
Unfortunately, we also have family who helped us get this far but have passed away.
Betty and Bob Bugie, our first generation. There aren't words to describe them. They are truly a definition of why they were called the greatest generation. She looked like a movie star and he was a handsome B-17 pilot in World War II. They looked like something out of a movie.
Mr. B, (Baba) poured the foundation that we try to stand on today. Those of you who knew him know that he was one of the kindest and best men you had ever met. Words wouldn't do justice to the man that he was. His character and class is what we should all strive for. He passed away in August of 2007.
Mrs. B, (Betty, Beebs, "The Queen of the Catalogs"). In every family business someone must handle all the random stuff and she did it all for us. Whether it was a greeter, entering call sheets or putting together catalogs, she was always front and center. She had high standards of how things should look and be. If one of her guys in the warehouse didn't look how she thought, they should she'd tell them. But she was also fiercely protective of those guys, they were her other kids. We lost her on New Years Day of 2017.
Bill Patterson was probably the best salesmen we ever had. All he wanted to do was sell and he was great at it. He had the ability to relate to his customers in a way that's lost in today's world. All good salesmen are friends with their customers, but he was more. Rob might have described it best, "after he passed away and I went to his shops, I had grown men who didn't know me hugging me with tears in their eyes telling me how much they cared about him." Bill passed away in January of 2011.
Our Team – The faces you know and the voices behind the scenes that you hear
Inside Team:

Jim Brown has been with us since 1989. His product knowledge is second to none and he does an incredible job of digging for things that might not be right in front our faces. If he can't find it for you, it might not be available. Back in the day, he's the one who drew the short straw and Bill put him in charge of training Rob!
jim@bugiesales.com

Brennan Dougherty is our new guy in the back. He has only been with us since 2016 but is doing a great job of picking up on our vast collection of product lines. He might be our new guy in the back, but we are looking forward to him being here for the long haul!
brennan@bugiesales.com

Nancy Cioffi is our office manager.  We hired Nancy back in early 2020 but due to the pandemic we had to wait to bring her in until September.  It was definitely worth the wait.  Nancy's personality and dedication is a great fit for our team.  She fits right in with a great work ethic and a hint of sarcasm!
nancy@bugiesales.com

Annie is our 4-legged mascot whose work ethic isn't great.  She only shows up on Friday's and usually sleeps under Rob's desk most of the day.  If she's not sleeping, she's getting treats and scratches from our customers.  She's got it rough, good thing she's cute!
annie@bugiesales.com
Outside Team:

Warren Wright covers our Columbus and Dayton territories. Warren has been in the industry for 30 years working for multiple distributors. He has great knowledge, a dedicated work ethic and an exceptional relationship with his customers. This is an industry of lifers and Warren isn't any different. There's sawdust in his blood.
wwright.bugiesales@gmail.com

Rob Patterson covers a large territory for us.  He covers our Cincinnati, Northern Kentucky, Lexington, central Kentucky/Tennessee and southeastern Indiana territories.  As you saw above Rob has been working for Bugie since around 1990.  His experience and work ethic are very valuable to both Bugie Sales and our customers.
rob@bugiesales.com